Wolff sez: More games at the Greek (including BracketBuster!)
I had a chat with D-Wolff recently, just like I did last year, for a quick summer update on the happenings surrounding the Terriers. He was cool enough to call me while driving between two different gyms in Vegas during the big recruiting week there a little while ago.
Scouting in Vegas? Sounds like fun right? But coaches like Wolff and his assistants aren't there to drop a couple C-notes on the blackjack tables at Caesar's
or spend a couple hours watching Gallagher find new ways to smash watermelons. No, it's a real grind going from gym to gym to look at hundreds of kids and having to choose between eating a meal and going to take a leak. For a really good illustration of what it's like read about it
here
(scroll down to Tuesday, July 29, 2008) or
here
.
Anyway, so it was incredibly nice to Coach to set aside a few minutes for me. Like a jackass, I didn't actually record the conversation because I have no idea how to record both ends of a telephone call with a regular tape recorder. I took notes, but they aren't perfect. So for that reason, info gleamed from the interview will spill out in smaller bits.
Like this, to start: Coach says the team will inconvenience the almighty hockey team a bit more this year by playing SEVEN games in Agganis Arena a.k.a. The Greek. The most we've had before was either 3 or 4, I can't remember.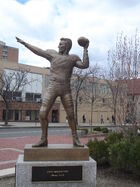 The idea behind this is to create more of a big-time atmosphere around the team, and to me it's true: the games seem more of a big deal when they are played in a real college arena, and not a high school gymnasium. The skeptics among us will point out that if the tiny Roof looks empty on game nights then the Greek is going to look like the loneliest place on earth. Others will point to the Terriers' dismal
win-loss record
at Agganis. Well I say eff that... I want my team to play at the nicest court we have.
There will be 3 non-conference games there: GW, Marshall and Holy Cross. Good choices all, since they're the 3 highest profile home opponents we've got.
The Greek will also be hosting a BracketBuster matchup - and it's the first time a home game has been awarded to an America East team. I am REALLY hoping for a TV game this year. It'll be nice to be relevant after getting stuck with meaningless games against Manhattan and St. Peter's the last 2 years.
That leaves 3 America East games to be hosted at Agganis. Anybody got guesses on which ones they will be?
Labels: Bracketbuster, Coach Wolff, George Washington, Holy Cross, Manhattan, Marshall, recruiting, St. Peters, The Greek, Vegas